Who is MIMI?
Wow, who is MIMI?! MIMI is everything! One talented and creative little ball of energy who is nonstop on the go, always happy and positive, is passionate about everything she does and loves to create art. MIMI is Michelle Cox, a makeup artist, hairstylist and photographer.
The cosmetic, fashion and entertainment industry became a passion at a young age. I knew early on, that my God given talent and purpose is to bless everyone I work with! I've always believed, whatever field of work you're in you should have fun, do what you love and love what you do.MIMI is more than just a person but a brand; Made In My Image.
Made In My Image means bringing a vision to life in my own way. It's about being able to take an idea, create a look, and bring that vision to life by adding my own personal style and creativity. Not only do I provide a service; I provide a full experience from beginning to end by bringing out the best you and most importantly making you feel good.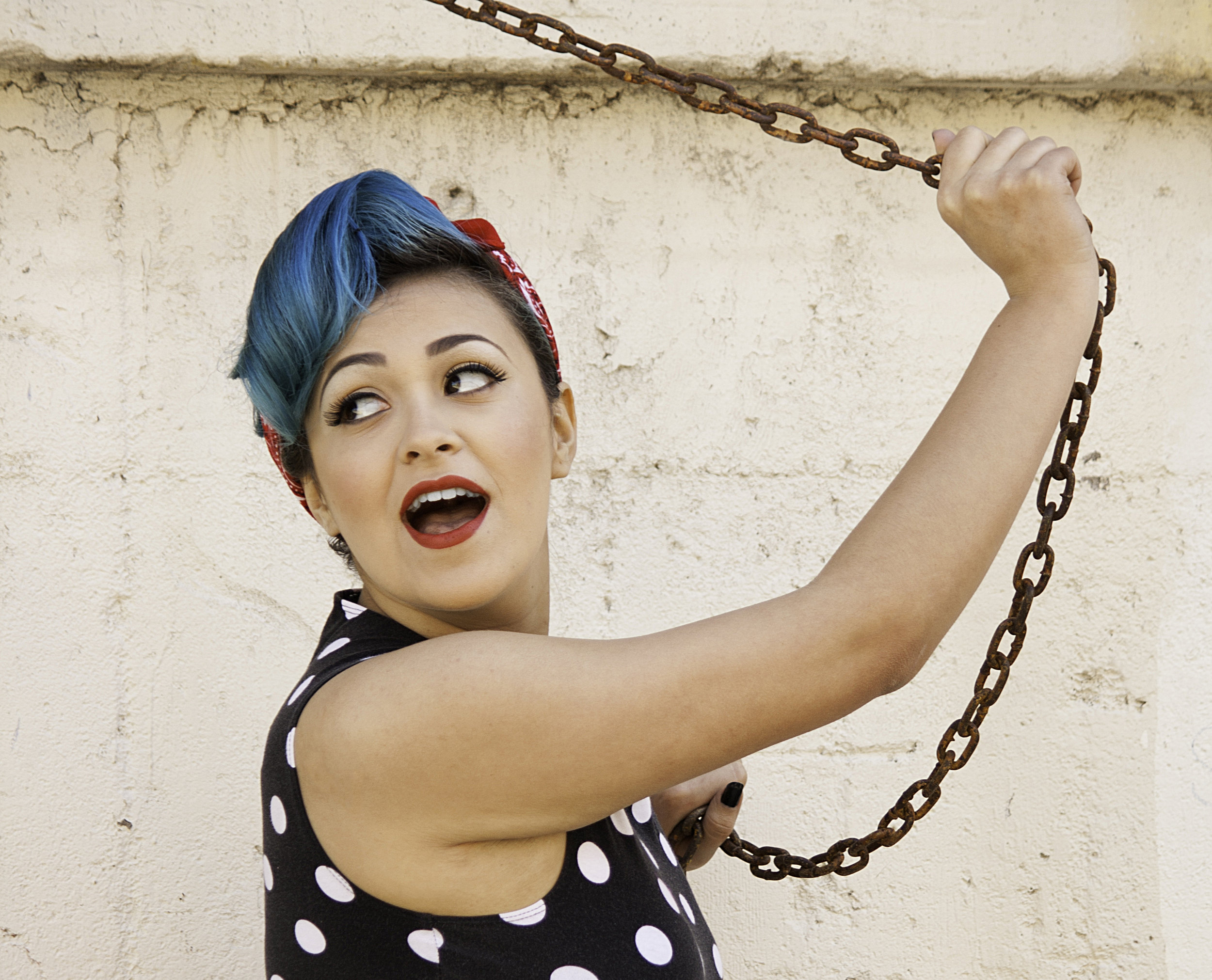 Shadow eyes or loud lips?
Depending on how subtle or bold you want to go, always have fun with your makeup. When I'm doing makeup on a client or even myself I like to start my vision off with the outfit. Knowing what attire will be worn helps me create the overall look. If you are going for a natural and subtle look, choose eyeshadows with natural, soft or earth tone shades and go bold with your lips. A classic all-time favorite go to look can simply be eyeliner, mascara and red lipstick with a little blush or bronzer.
If you're not a fan of red lipstick you can go with any dark or bright shade of lipstick you feel looks good on you. For a more bold and sultry kind of look, have a little fun and add some color to the eyes to make them pop. Smoke those babies out with a brown or darker shade eyeshadow and add a pinkish or neutral to nude lip color. You can also go all out with your eyes and lips. You know sometimes a loud lip and eyeshadow can work together and when it does, hunny work it!
Powder Contour vs Liquid Contour?
Of course, everyone has their own technique of doing makeup and I say you can do both! Knowing what and how to contour is so important for your face shape. I think choosing whether to go with a powder or liquid contour also depends on your skin type and how defined you want your facial features to be. If you want more of a dewy finish, cream or liquid is the way to go. Liquid and cream makeup provides fuller coverage and mimics the skins texture allowing the makeup application to go on smoothly and blend well.
I would also recommend for anyone who has dry or mature skin to use a liquid foundation or cream concealer as it helps to add moisture to the skin. Powder is easy to blend and will define features naturally since you have more control over how much powder you are applying. It provides more of a matte finish to your contour and is great for those with combination to oily skin. A powder can be applied on top of the cream contour to
set the look, mattify and add more definition to the cheek bones and hair line.
For anyone who has dry to mature skin you want to avoid using a powder as it will accentuate large pores, fine lines and wrinkles and will make the skin look a little dull and chalky. When contouring I like to use a cream foundation or concealer that is at least 2-3 shades darker than the natural skin tone. Apply it to the nose, cheeks and hairline and blend, blend, blend! Add the finishing touches of a blush or bronzer and a nice highlight along the bridge of the nose, top of cheek bones and cupids bow.
That Perfect 10 minute Contour?
For a perfect quick contour, start off with your darkest shade of foundation or concealer and go along your hairline and the bottom part of your cheek bones. Add a lighter shade of foundation or concealer under the eyes, forehead and chin. Blend the color from the cheekbones up towards the temple and around your hairline. You can add contour to the line of the nose, followed by highlight to the bridge of the nose and top of check bones, topped off with blush on the apples of the cheeks and once again, blend baby blend. After highlight and contour is complete, use a powder over your face to set the makeup and allow further blending of your contour. Remember the purpose of contouring and highlighting is to accentuate facial features.
When it comes to the brows, pencils or shadows?
I love seeing nicely shaped eyebrows. Brows are one of my absolute favorite facial features, it sets the frame of the face and gets the eyes ready for eyeshadow. Eyebrows can be challenging for some because those hairs have a mind of their own. There are hundreds of products on the market from pencils, powder, pomade, gels and more. The easiest way to achieve a nice set of brows is to find what works for you. I can say pencils or powders are the best but, what good is that if you don't know how to use it. When it comes to eyebrows here are some basics. Pencils are great for filling, defining and shaping eyebrows. Line the top and bottom of your eyebrows and use small light strokes following the natural hairs of the brows to fill in any sparse areas, you can use heavier strokes for-more definition.
Powders are great if you have light or sparse eyebrows, it gives a natural fill in to the hairs creating a fuller and thicker eyebrow. Powder brow products are pretty easy to use, you can control the amount of shade and thickness. After you filled in your brows, clean them up to give that perfect touch of definition. Take a small eyebrow brush and brush through the hairs to blend the pencil or remove any excess powder. Use a natural to light concealer and apply it underneath the eyebrow arch and above the brow bone getting as close to the edges as possible with the concealer and then blend it out. With a small flat eyeshadow brush and a natural or light gold eyeshadow add a highlight to your eyes by lining underneath the brow. You can also have fun and top off your perfect brow and eyes with a nice color eyeshadow.
Make-Up that works better than the expensive stuff?
I love this question! I get asked this all the time and I say, "It's all in the technique!" No matter what brand of makeup you use you can create the same look with drugstore makeup than you do with high end makeup. The most important part of having beautiful makeup is having beautiful skin!Comparing drugstore makeup vs high end makeup, one of my favorite and inexpensive go to liquid foundations is L'Oreal's True Match liquid foundation. Yes L'Oreal, they've been around longer than most of the popular companies today and if you're looking for something with great coverage, a wide selection of shades that match your skin tone, I would definitely recommend giving it a try. NYX is a well-known and popular brand among professionals and everyday cosmetic wearers. It's reasonably priced and works great.
More in shape than most peoples lives.
When in doubt wing it out! A nice winged eyeliner is perfect for day or evening. Gel and pencil eyeliners are my favorite! Depending on how bold or defined you want your eyes, add eyeliner to your water line. With the right angle brush and a good gel eyeliner you can create that perfect wing. The key to a really good winged eyeliner is to have a steady hand and follow the shape of your eyes. You want to stay as close to the line of your eyelid as possible, starting from the inner corner of your eye, along the lid and bringing the liner slightly pass the end of your eyeline creating a point. Go back over to make your wing as thick or thin as you want. When you've mastered your perfect wing, it will be so on point you'll feel extra confident and ready to take over the world.
Those 5 essential products?
Here are some of my top 5 essential must have beauty products that are easy to maintain for the everyday on the go person who doesn't always have time to do a full face of makeup. Moisturizer, Brow pencil, mascara, lipstick or gloss and a nice blush or bronzer.
1) Moisturizer with SPF. This is a must! I can't stress enough on how important it is to take care of your skin underneath the makeup you wear. You definitely want to wear a moisturizer that has SPF in it to help protect your skin from baking in the sun. The higher the SPF the better protection it gives. Yes, even if you have oily skin it's good to moisturize. Moisturizing the face before applying makeup provides an overall flawless healthy and natural looking glow.
2) Get them brows together! Even if you don't have time for makeup, take a few minutes to fill in and shape your brows. Anastasia, of Anastasia Beverly Hills who is known as the eyebrow queensaid, "I find that nothing frames a face so beautifully, or gives instantaneous lift quite like perfectly shaped brows" I couldn't agree with her more. My go to eyebrow product is Anastasia Beverly Hills Dip Brow Pomade and NYX Micro Brow Pencil followed by a NYX concealer to clean up the brows.
3) Mascara. With a few good coats of mascara, it will help to open your eyes and add definition to your lashes. A few really good mascaras I like are "Too Faced, Better Than Sex Mascara",
MAKE UP FOR EVER. Smoky Extravagant Mascara, NYX Doll Eye Mascara and L'Oreal Voluminous Butterfly Mascara.
4) Lipstick or gloss, that's the question? Find the perfect shade that works for you. Whether its natural or bold, lipstick is always an easy go to beauty product that adds a perfect touch to your overall look. AJ Crimson lipsticks are highly pigmented, smooth on the lips and last all day, as well as NYX, Smashbox, L'Oréal, Milani and Revlon to name a few.
5) A nice blush or bronzer will add a natural color or sun kissed glow to your face preventing your complexion from appearing dull or pale. Add the blush to the apples of your cheeks and bronzer to the lower cheekbones. Becca, Nars, NYX and Makeup Forever have some amazing shades to choose from.
Going from Office to evening glam?
Step away from your everyday natural office look and glam up your life after work. Depending on what you're getting into for the evening, I would say the best way to go from office to evening glam is to keep a few items in your makeup bag or desk for touch ups. No need to start your makeup look all over. Simply add on to your eyes and lips by using a bold eyeshadow, lipstick, eyeliner and powder to tone shine. It will give you the right touch to step up your look within a matter of minutes.
Alight ladies, that's all for now, if you want more, follow me on Instagram @madeinmyimage
Bare with Me, my blog has been taken over, and I love it!